Part 1: Basics and Overview
Part 2: Risks and Considerations
Part 3: Best Ways to Accept Donations
There are many ways of accepting cryptocurrency depending on the level of control and the features you need. Directly accepting cryptocurrency into your own wallet will require your organization to manage the transaction history, create your own checkout flow, transfer to brokerage to sell for cash, and take extra care around security.
Platforms like Every.org, The Giving Block, and Engiven make it easy for nonprofits to accept top cryptocurrencies such as Bitcoin (BTC) and Ethereum (ETH), convert to cash, and issue receipts. We will cover the differences between these platforms in this article so that you can make the best decision for your organization.
Now let's get into the details of each platform and review the defining features.

Defining feature: As a nonprofit, no platform fees and handles accounting/legal risk. Set up in seconds for over 1M+ nonprofits.
Pricing: No set-up or platform fees. Brokerage fees of up to 1%.
Recommended for: Nonprofits that want to get started quickly and easily without investing a ton of time and money.
The main difference from Every.org and other options is that as a 501(c)(3) nonprofit, Every.org handles accounting and legal concerns of accepting crypto donations. The donations are made to Every.org which in turn grants nonprofits in cash, similar to a DAF. Nonprofits never take custody of the crypto and only has to interact with cash.
The Giving Block, Engiven, and other for-profit options are a payments processor that handle the technical challenges but the nonprofit will be taking on the risks involved. They also allow the nonprofit to have their own wallet to hold crypto over the longterm, which Every.org does not provide.
Over 1 million nonprofits are already crypto-enabled and can generate a free and easily embeddable button or link in seconds here by disbursing through our partner, Network for Good or learn more at every.org/crypto.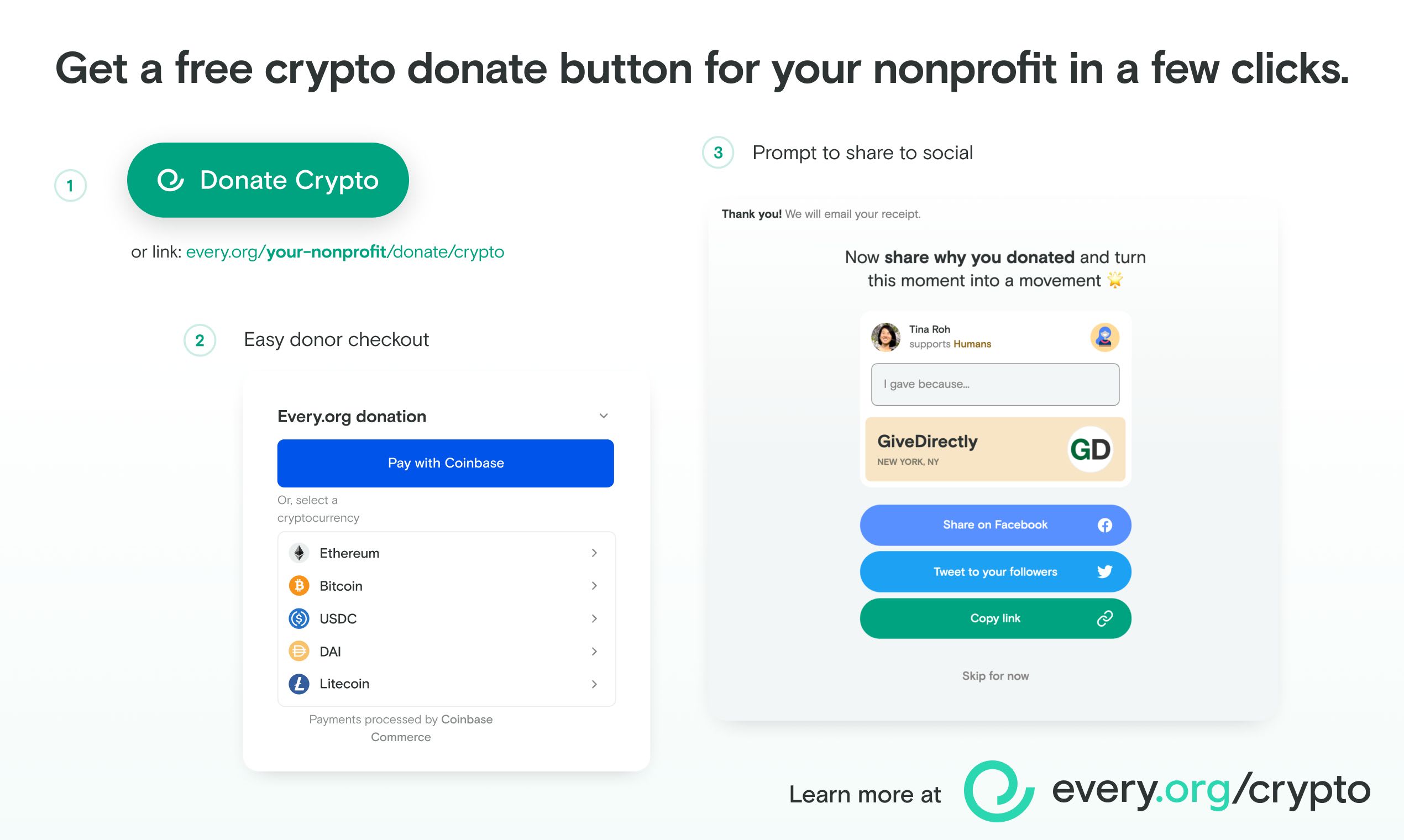 Defining feature: Ability to embed the full donation widget on your site and educational resources.
Pricing: Undisclosed, anecdotally includes set-up fees and transaction fees that may vary depending on your organization.
Recommended for: Nonprofits that want a more guided, in-depth experience to accepting cryptocurrency donations and building a community around crypto donors.
Launched in 2018, The Giving Block is the most established platform that helps nonprofits accept cryptocurrency. In addition to the technical solutions available, they invest in their educational content to promote crypto donation awareness in the nonprofit sector, such as uniting partners for a #BitcoinTuesday fundraising day. They have a rich library of webinars and documentation for nonprofits wishing to accept crypto donations.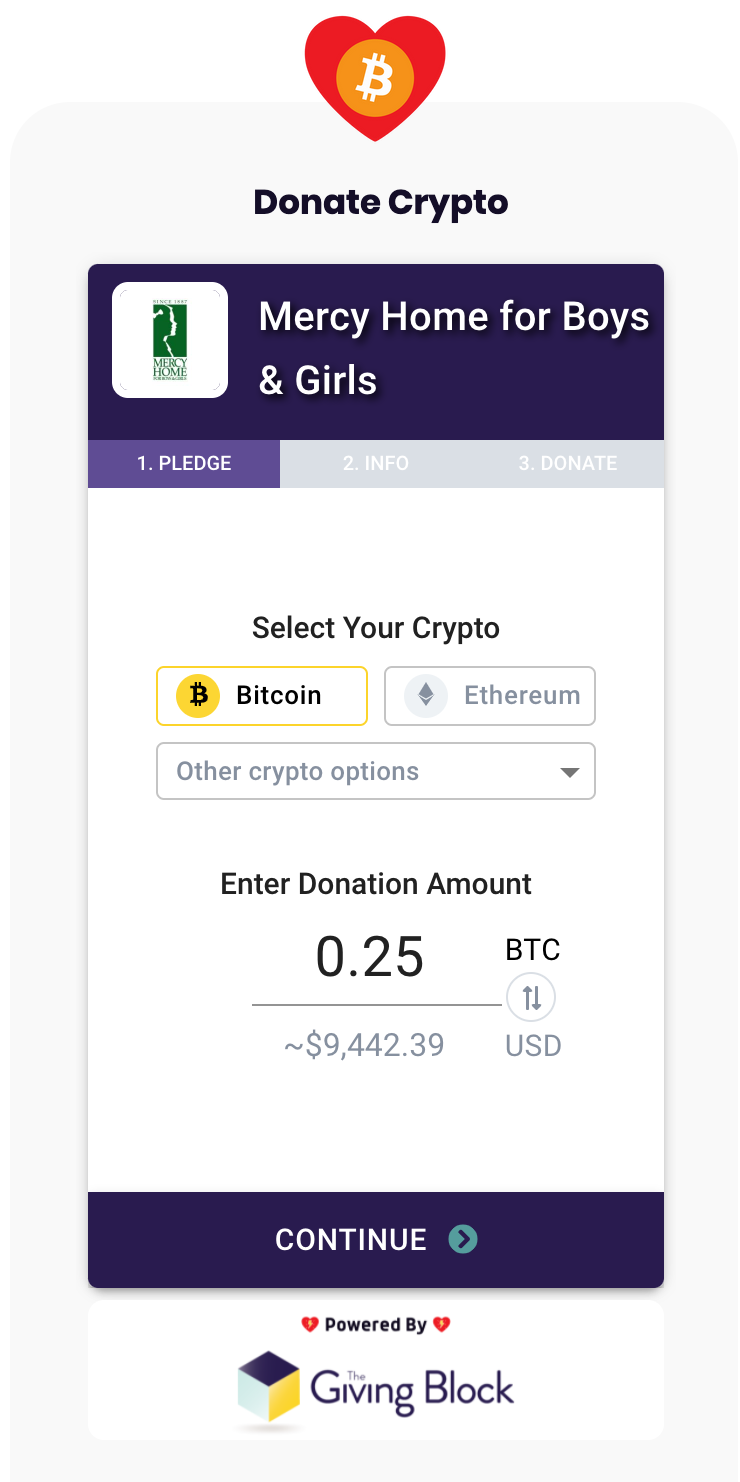 Defining feature: Ability to add multiple program designations and most currencies supported out of the box.
Pricing: 3% flat rate fee. No set-up fees.
Recommended for: Nonprofits who want to offer donors the choice to select which programs the donation should go to.
Engiven allows a drop-down box that allows donors to specify which program they want their donation to go to. The donation pages come equipped with a thorough FAQ for curious donors. Their featured nonprofits consist mainly of faith-based organizations, so the network may be of interest to aligned organizations.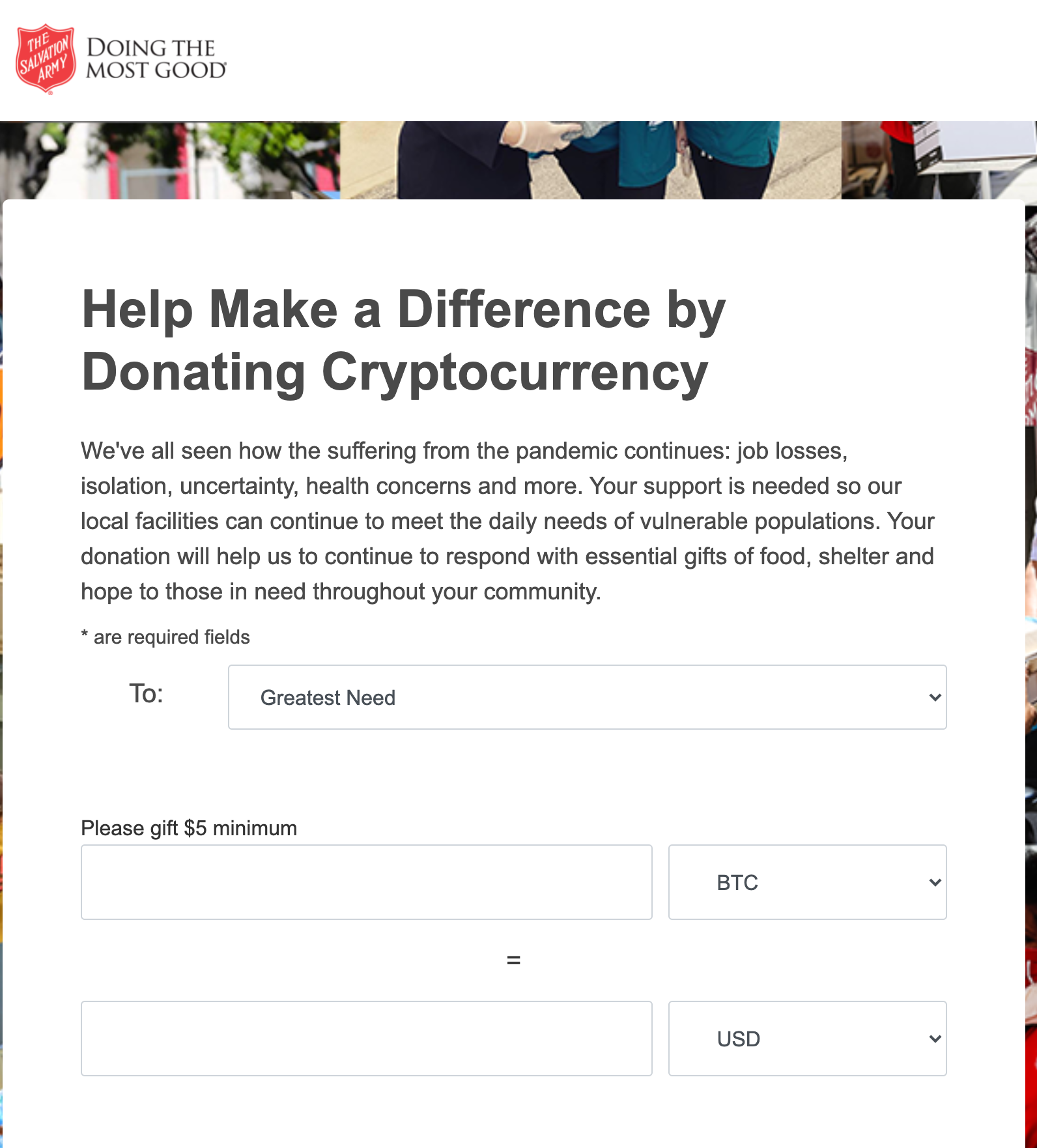 Other Options
Behind the scenes, all of these platforms use a cryptocurrency brokerage or exchange like Coinbase Commerce or Gemini. Technically savvy nonprofits may consider building their own donation widget using these services.
Coinbase Commerce especially makes it easy for nonprofits to get started with a widget of their own (see The Life You Can Save for example), but will not include additional services like donor support, conversion to cash, or automated receipts.
Many DAFs accept cryptocurrency now, so your donors may already be equipped to donate cryptocurrency through their DAFs.
Conclusion
There are many ways to accept cryptocurrency donations, and the choice between the options depends on the level of involvement and control your organization wants to have around the cryptocurrency.
For over 1 million 501(c)(3) nonprofits, you may already be able to receive support in cryptocurrency without additional legal/accounting burdens using Every.org. To get started in seconds or schedule a demo, check out https://www.every.org/crypto or get in touch with us by emailing nonprofits@every.org.
← Prev: Risks and Considerations
Disclaimer: These posts are for informational purposes only and not intended as legal or financial advice. Please consult a professional (accountant, attorney, tax advisor) for the latest and most accurate information. We make no representations or warranties as to the accuracy or timeliness of the information contained herein.