It's evident that cryptocurrency is here to stay—in 2021 alone, the annual volume of crypto donation was $69.6 million. For many nonprofits, this can be an opportunity to cultivate new donations, but it can be challenging to implement new technology to accept cryptocurrency. At Every.org, we want to make the process streamlined and easy for nonprofits so they can focus on the impact they are making. Below is a walkthrough of the crypto donation experience for the donor and nonprofit, and how to get set up with Every.org.
Summary
Every.org is the recipient of the crypto donation. This allows us to be responsible for any risk involved with accepting and processing crypto donations, establish the crypto wallet (nonprofit does not need to establish a crypto wallet when using Every.org), and be responsible for compliance forms such as IRS Form 8282 and sending out tax-deductible receipts. Every.org then disburses funds to the nonprofit as a cash donation from Every.org.
What is the donor experience?
Our donate crypto flow is quick and painless, regardless of whether the donor starts at your nonprofit's Every.org profile or a customized button on your website.

After a donor clicks the donate button on the nonprofit's giving page, they will be asked for their contact details and if they would like to share their personal information with your nonprofit. The opt in box is automatically checked and must be clicked to opt out—we've found that an incredible 75% of crypto donors through Every.org choose to leave this checked!

While they may choose not to share their contact details with your nonprofit, in order to complete our AML and KYC processes, we do not allow crypto donors to remain anonymous to us. When a donor chooses to share their contact information, in addition to their donation details, you'll be able to see their:
First name
Last name
E-mail address
If they choose not to share their personal information, they'll be listed as an anonymous donor.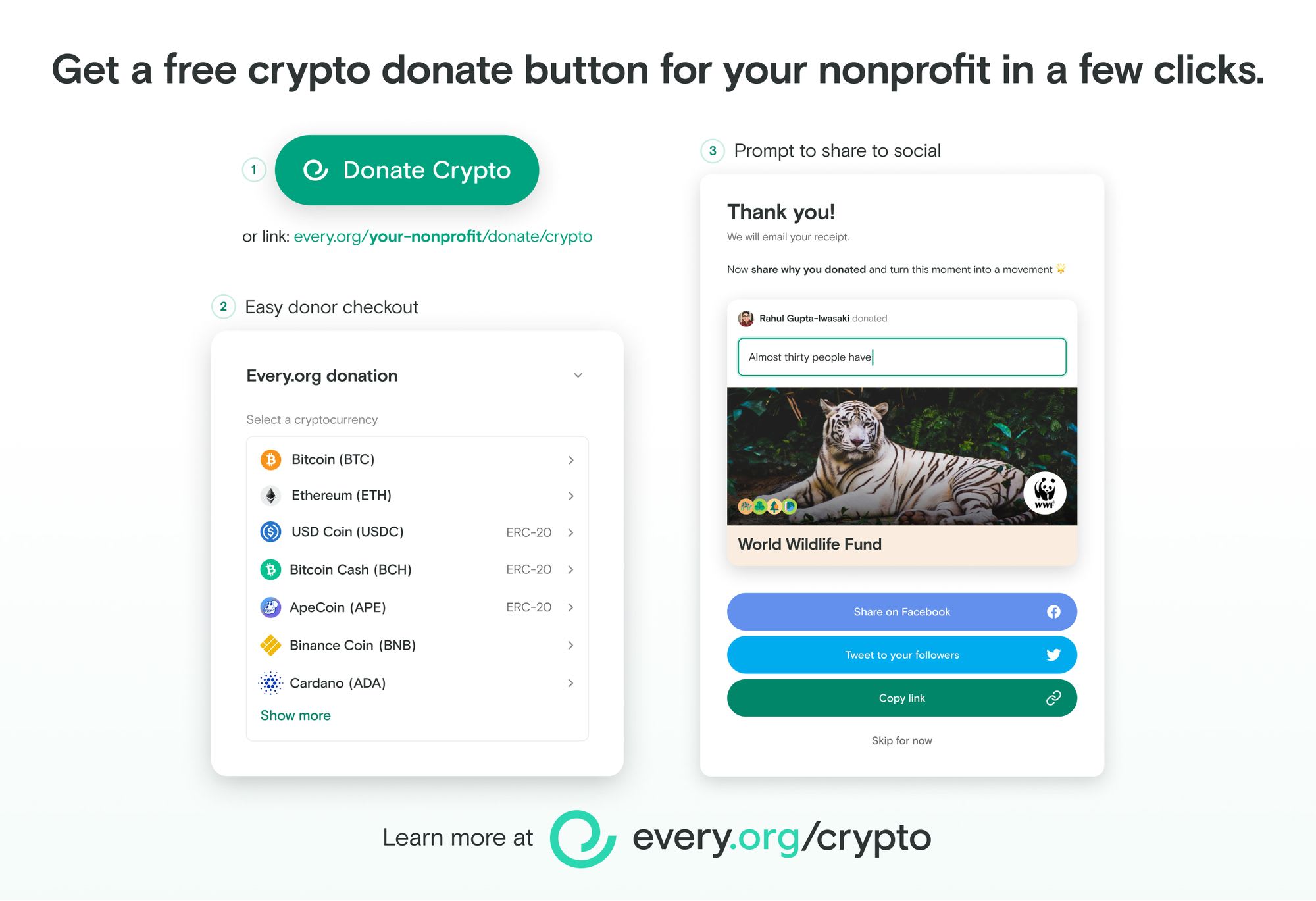 Next, they'll select a cryptocurrency, we are always updating and adding to our directory. If a donor does not see the token they would like to donate with they can contact us at crypto@every.org.  

Once they've sent their gift, the donor will have the option to leave a comment about why they donated.

The donor then immediately receives a tax-deductible receipt by email, where you can add a custom thank you message to ensure that you are thanking every donor.

What happens behind the scenes?
Once the donation is complete and we have received the crypto in our account, it must be converted to USD. We are able to automatically convert crypto donations into USD. The instant conversion is done with a small fee (as of this writing, just 1.00%) to facilitate this process, which will be subtracted from the donation.
For a crypto donation worth $5,000 USD or more, to get the best rates possible, donors may instead e-mail crypto@every.org to arrange for manual exchange.
After the crypto has been converted into USD, we disburse to your nonprofit per our regular disbursement schedule in one of two ways:

As an intermediary 501(c)(3), Every.org greatly limits your liability, risk exposure, and administrative work because we accept the cryptocurrency, convert it, handle tax receipts, and file Form 8282 with the IRS. A simple USD grant comes from Every.org to your nonprofit, and you never touch crypto. This also means that you do not need a crypto wallet to accept crypto donations through our platform.
How do I get started?
Your nonprofit may already have a profile on Every.org! To get started, click here to search for your nonprofit by name or EIN and easily create a donate crypto link or button. From there, feel free to share your nonprofit's donate crypto link or add the donate crypto button to your website.
We also recommend that you claim your nonprofit's profile and become an admin so that you can take full advantage of our many free features. Once we've approved your admin request, you'll be able to access donor information, update your nonprofit profile, create fundraisers, and more.
Additional resources
Questions? Let us know at support@every.org.