UPDATE
Thanks to your generosity, we managed to:
Receive 2330 donations
From 1260 donors
Unlock $20,200 from the fund
Raise over $544k for nonprofits in December


Our hearts are filled with so much joy seeing communities gather across the nation to spread generosity. Thank you for being a part of this community and if you are new, welcome! Nonprofits can join here and givers can join here. Read more below to learn more about this campaign.
---
When presented with either a traditional $25 donation match or $25 in giving credit, people with the latter tend to be more open to giving and give more! The giving credit helped raise 97% more money and converted 86% more people into donors.
Starting on December 1, 2020 in honor of #GivingTuesday, all nonprofits and their champions can take advantage of this giving credit the entire month  of December because we raised $250,000 to fund this #25DaysOfGiving movement of generosity. It's available to all 1.7 million US 501(c)(3) nonprofits on the Every.org platform. Should the funding run out, Every.org hopes to top up with additional funds.
To activate, nonprofits employees, board members, and members of the public can watch this video explanation or simply:
Create a personal account at www.every.org and support a US 501(c)(3) nonprofit.
Comment on why they have chosen to give to this specific nonprofit.
Share their donation link via email or social media to all their friends and family.
Here is an example tweet nonprofits or their supporters could share with donation link such as every.org/@tina/questbridge bringing people to this web page: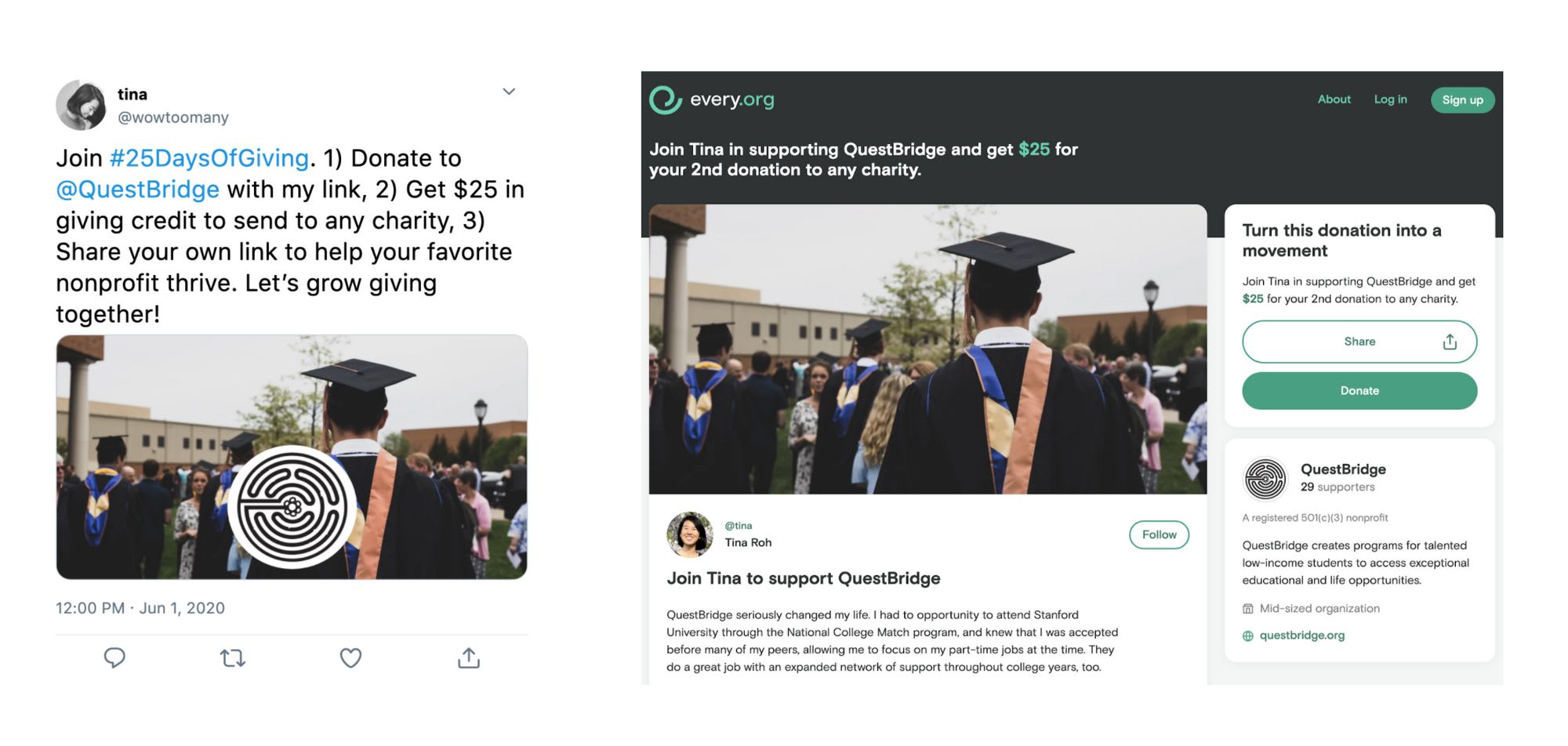 For too long, nonprofits have relied on traditional matching campaigns to unlock more generosity and expand their donor base, with increasingly large matching amounts and diminishing returns — especially as seen in the latest election cycle with matching campaigns starting at 100% and then ramping up to 700%.
In our test, people were shown one of two different incentives: "get up to $25 matched" or "get $25 for your 2nd donation to any charity". With the latter, people can choose to send their $25 credit to the same nonprofit or send it onward wherever they want using our lightning-fast search and extensive database of 1.7 million nonprofits.
People responded positively to the giving credit's spirit of generosity and having their voice heard — quotes included "it's addictive" and "it makes you want to be generous". Interestingly, 72% of people elected to donate their credit to the same nonprofit. Combined with much higher conversion and slightly higher average gift amount, it resulted in 97% more money raised for the originating organization.
This is an exciting step in our vision of a world where every person and organization has the best technology and best practices to help them do more good. Together, we can increase global giving rate to 3% of GDP and create a more just, sustainable future for everyone.
Activation Toolkit
Email support@every.org for advice specific to your mission or here are text templates you can use. If posting to social, feel free to tag @everydotorg or message us your post so that we can help amplify!
Social media / Text / WhatsApp / LinkedIn
Join #25DaysOfGiving. 1) Donate to X with my link, 2) Get $25 in giving credit to send to any charity, 3) Share your own link to help your favorite nonprofit thrive. Let's grow giving together! [link]
Email
Subject: For #25DaysOfGiving, support X and get $25 for your 2nd donation to any charity.
Dear friends and family,

For #25DaysOfGiving, I'm proud to support X. Please join me in helping make this organization's amazing mission possible at [link].

#25DaysOfGiving features a $25 credit and the concept is very simple:
1. Donate to X with my link.
2. Get $25 in giving credit to send to any charity.
3. Share your own link to help your favorite nonprofit thrive.

If you aren't in a position to donate this year given everything that has been going on, you can still help by sharing my link and increasing awareness within your network. Let's make a wave of generosity!

In gratitude, X
Instagram
Put your link in the bio! That can inspire many donations. You can also record a short video or post an inspiring picture with the above messaging. For custom story or grid graphics for a specific nonprofit, email support@every.org.
Case Study
To learn more about how Tim Ferriss helped fundraise for MAPS using the $25 offer, see this study.